#041 - Finance, Fitness, Fun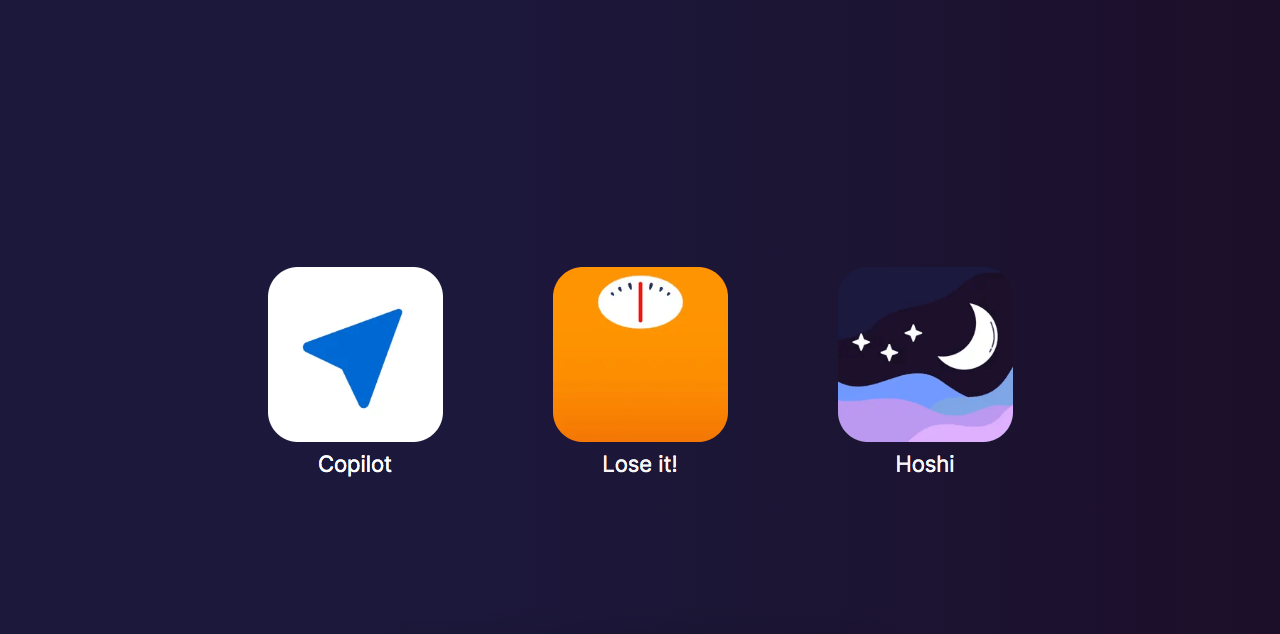 Good morning everyone,
Sorry I've missed a couple of weeks. I just haven't felt like I've had any apps that I really wanted to share. This week we have some good ones though.
This week we are doing a cross promotion with our friends over at Market Loop. They are an email newsletter like us but they deliver daily emails about the world of finance. If you think you'd be interested, check them out and show them some support!
Market Loop is the free daily email delivering bite-sized business and finance news from the UK and beyond. The best part? It only takes 3 minutes to read and is jargon-free so that you can get the most relevant updates and start the day smarter.
1. Copilot
Since we are promoting a financial newsletter this week I thought it would make sense to start with a finance based app. Copilot is an app you can use to track your finances. I like the design of it. I use it to help me break down my spending into categories. Copilot sends me a notification every week saying how much more or less I've spent than the previous week. It helps to remind me that I need to think more thoughtfully about what I spend money on.
I use a very obscure bank that not a lot of apps support and Copilot doesn't support it either. So instead my workflow has been to add my credit cards to Copilot and track those instead. It's very convenient to see how spending categories break down across different cards. You can review your transactions that go through Copilot to really dial in your monthly budget. I just switched my monthly Verizon payment that was filed under the spending category other to the utilities category. I then created a rule based on the name so from now on all Verizon bills will be under my utilities budget. It took less than a minute to do. Once you get your transactions in the correct categories it really can bring awareness to your monthly spending habits.
Copilot is available on iOS and you can also get it for your Mac (macOS 12 Monterey or above)
Copilot has a very generous 30 day free trial so if you don't enjoy using it you can cancel within those thirty days. Otherwise it's $70 a year. I ended up paying for a yearly subscription.
2. Lose it!
I was recently talking to a friend of mine that is working to become a personal trainer. I was telling him that I wanted to be more fit. He explained to me that the best thing I could do was to just start tracking my calories and set a budget. I had used Lose it! before so I decided to give it another go.
Lose it! is an app to help you track your calories. I was able to tell it a target weight that I wanted to hit. Then the app gave me a daily budget of calories and a projected date for when I would hit my goal. I've been using the app everyday for almost two weeks now and I really love it.
I'm currently about 200 pounds with a goal weight of 175. Lose it! created a calorie budget for me of 1,970 calories a day. If I can stay under my calorie budget then I should be able to hit my target weight by the end of June. I think that's pretty awesome.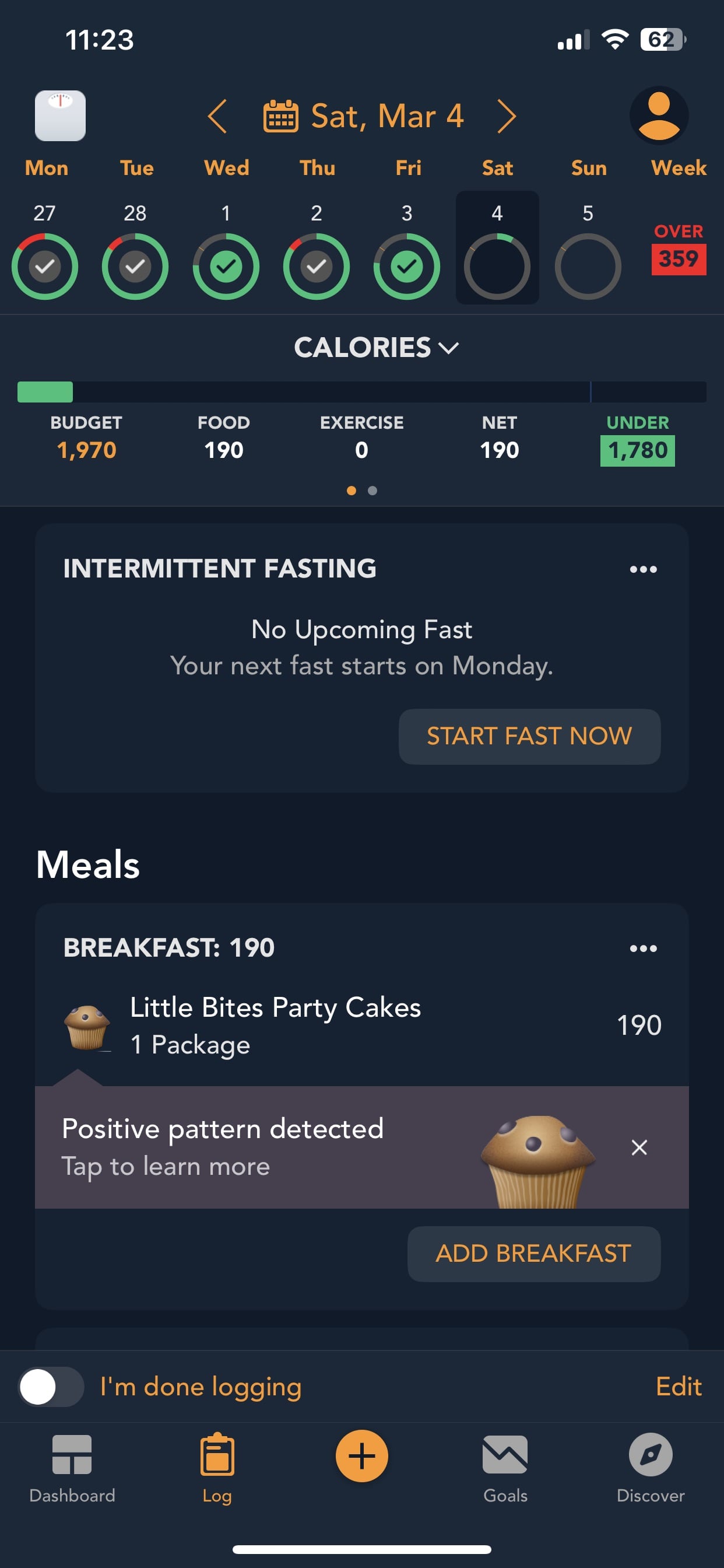 I'm using Lose it! to track my steps, water intake, weight and calories. I plan to setup one of their intermittent fasting plans in the future. One of my favorite features is patterns. They use your food log to tell you interesting things like on days that you eat muffins you average 70 calories below your target weight. I don't exactly find this information useful it's more or less entertainment at this point.
Here's a list of everything you can track inside the app
Water intake
Body fat
Exercise Calories
Exercise Minutes
Steps
Carbohydrates
Cholesterol
Fats
Fiber
Protein
Saturated Fats
Sodium
Sugar
Muscle Size (Bicep, Chest, Hip, Neck, Thigh, Waist)
Sleep
Blood Glucose
Blood Pressure
Lose it! is free. However, there are some features that you can't get unless you pay for a subscription. I upgraded to a yearly plan for $20 a year. Shortly after they sent me a lifetime subscription deal through my email for $60 (normally $150). I was tempted to purchase that plan but I had just bought the yearly plan so I think I'll wait for another sale or promotion and get the lifetime plan. So if you're thinking about purchasing a plan see if they are doing any promotions or sales.
3. Hoshi
Hoshi is a logic puzzle game that I recently found. Apparently hoshi is the Japanese word for star. Now we can all say we learned something today!
I am really bad at this game so far but I really like the design. There are small whimsical elements in the UI that make this app feel great. When you are on the home screen for example you can see animations of faint shooting stars fly across the background.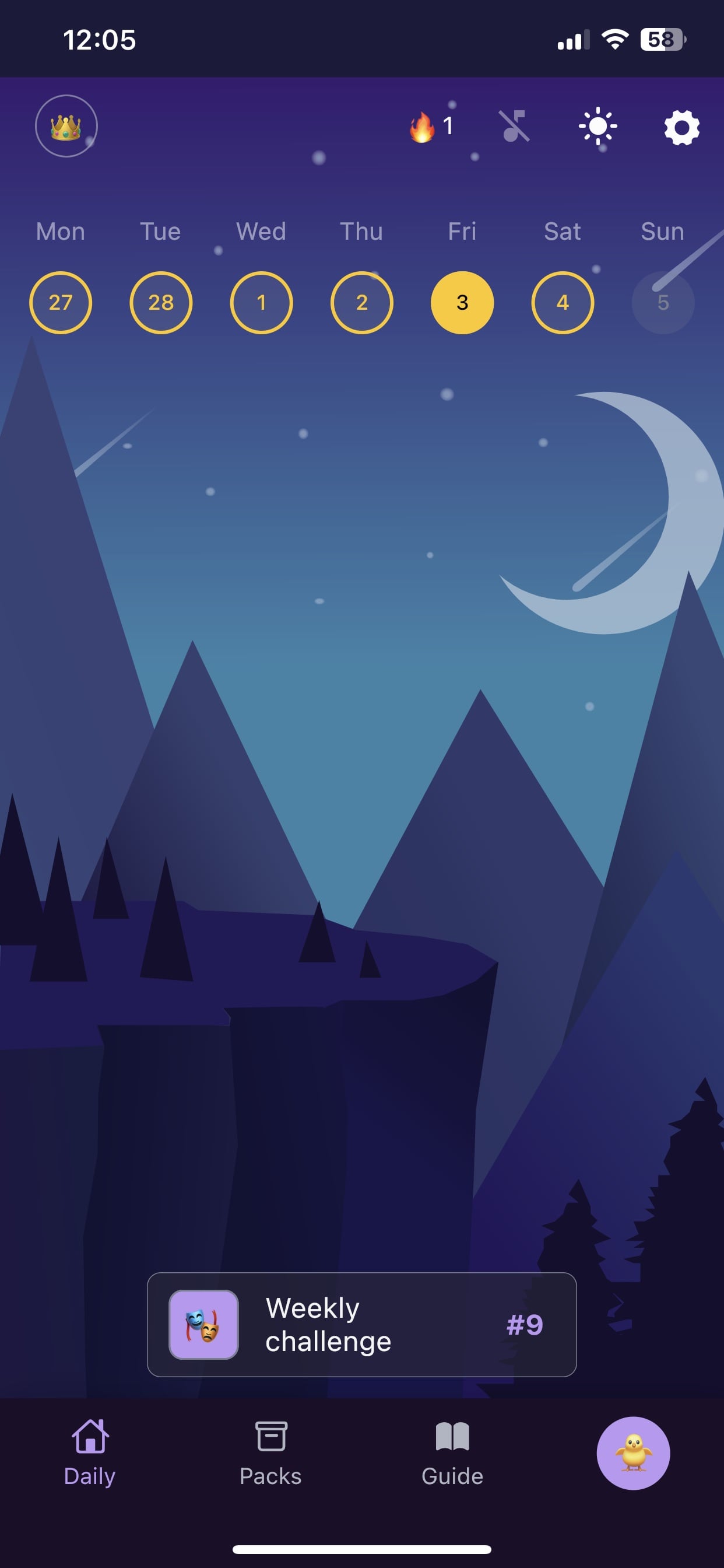 This particular type of logic puzzle is known as a "Two not touch"  puzzle and can be found in newspapers like The New York Times. New puzzles are released daily. There is also very helpful guides section to teach you how to play the game. Then when you get good at it you can track your progress on the leaderboard.
The game is free and very well done. Give it a try!
Feedback
As always I'd love to hear from you. Give me a shout if you try any of the apps out and you like them. If you have any apps I haven't reviewed yet send them my way.
Let me know how I'm doing [email protected]