#034 - Trains, Lists and Puzzles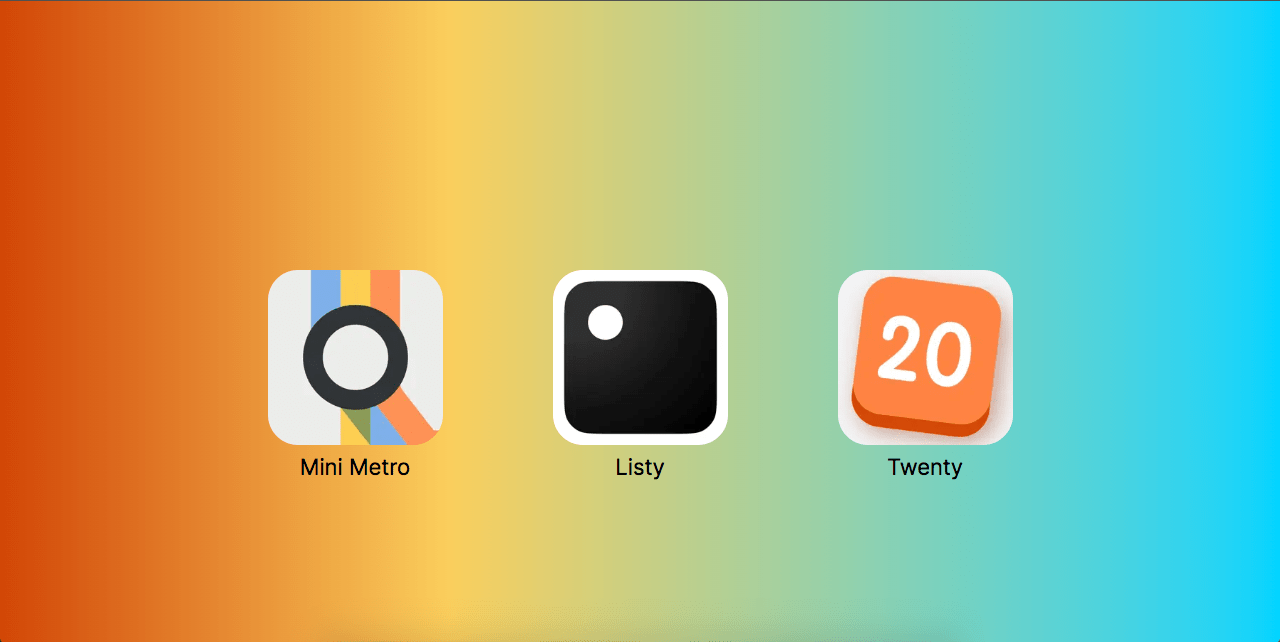 Hello Everyone,
How is everyone's holiday season going so far? Hope yours is going as well as mine. I finally feel like I have a handle on gifts. Hopefully I won't be shopping up to the very last minute this year.
If you find any cool apps / gifts this season let me know!
Anyway onto the apps!
1. Mini Metro
This is an addictive strategy game from dinosaur polo club. I actually found this app in the app store. This game is published on a lot of different stores not just mobile. You can play it on a Playstation or Nintendo Switch if you want.
This company looks pretty awesome I like their website and they have another game called Mini Motorways that looks like it has a similar vibe, maybe it will be in an upcoming issue!
The objective of the game is to build a metro network while the city grows around you. This means you to have to connect more and more stops as time goes on. The strategy comes in because you only have so many rail lines and tunnels you can build. Your passengers are the small black shapes next to the metro stops. Their shape indicates where they need to go. If your passengers can't get to their destination they will start to overcrowd the station. If there are too many passengers stuck waiting at a single stop a grey circle will start to fill up and when it fills up completely you lose the game.
I enjoy this game because it's challenging. I still haven't quite gotten the hang of it fully. I like that you can pause it and come back to it later. As it gets more difficult I find myself pressing on the clock in the top right corner and pausing for time to rethink my setup.
Needless to say the design is incredible. The maps that you play on resemble real cities and the game looks like a real time subway map. It's a work of art.
This one isn't free but I think the price is totally worth it - $3.99
2. Listy
When I acquired the newsletter and website from Paul he sent me a list of apps to review and the ones he had already reviewed on Listy. I wasn't sure about using it at first but the more I use it the more I like it.
I use it specifically for keeping track of different apps. You can start typing an app name in a list and it will pull the information for that app from the app store for you and give you a list of nice icons in a grid. Now when I find an app I want to write about I store it in Listy and once I write about it I move it to the reviewed list.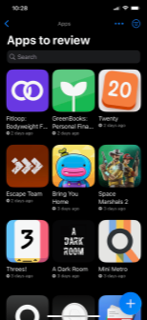 I think I'm going to try using it for other things going forward like groceries and movies I want to watch. They have a lot of different list types to choose from like Apps (of course), Restaurants, Artists, Songs, Podcasts Video Games, Wines, Beers and more. See for yourself!
They also have a useful Guides & Help section on their website.
The app is free to download but there is a Listy + subscription option for $1.99 a month or $10.99 yearly. The Listy + subscription unlocks a few features like using FaceID to lock and unlock your lists. It also gives you the ability to change the icons for your lists and take notes on your list items.
3. Twenty
I stumbled onto this puzzle game called twenty this week and so far I'm a fan. Its a puzzle game with 7 columns of numbered blocks you have to drop blocks with the same number on top of each other to combine them.
If you combine two number 3 blocks together you get a number 4 block. The goal it to keep combining blocks until you can make a number 20 block.
As you play there is a timer which doesn't say how long it lasts, but when it runs out the rows of blocks move up the screen. If any of the blocks on the board go off the screen then you lose the game.
I've only played a couple of times so far and the highest number block I was able to build was 14.
It starts to get challenging once you build your first number 10 block. Then you will start to see blocks that are attached to each other and can't be moved individually.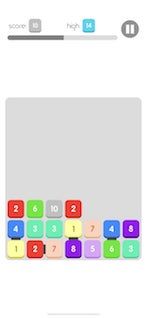 Twenty is a free game to download and play.
However if you want to play the other game variants like Bubbles, Flip Flop, Panic, Drop, Thirty or Zen then it costs $1.99.
Did I mention that if you pay for the extra modes that it comes with a dark mode? Gotta love dark mode!
4. Indie App Santa
Ok I know I normally only review apps and this one isn't an app. However, I think it is worth mentioning because - It's an advent calendar of apps.
Sorry I'm a little late announcing this but if you like newsletters like this one then I think you will enjoy it.
They post a new indie app everyday leading up until Christmas and every app is deeply discounted. Who doesn't love getting a deal?
Their website has an awesome floating snowflake effect and each app has their own design around it. If you don't check out any of the apps at least take a look at the website it looks like they put a good amount of work into it.
It's what inspired me to create a gradient for the featured app images for this week's apps. Maybe someday I can get into custom designed boxes for each app.
Heres a look at the first seven days of the month.

Feedback
As always I'd love to hear from you. Give me a shout if you try any of the apps out and you like them. If you have any apps I haven't reviewed yet send them my way.
Let me know how I'm doing [email protected]