#033 - Serious, Calm and Studious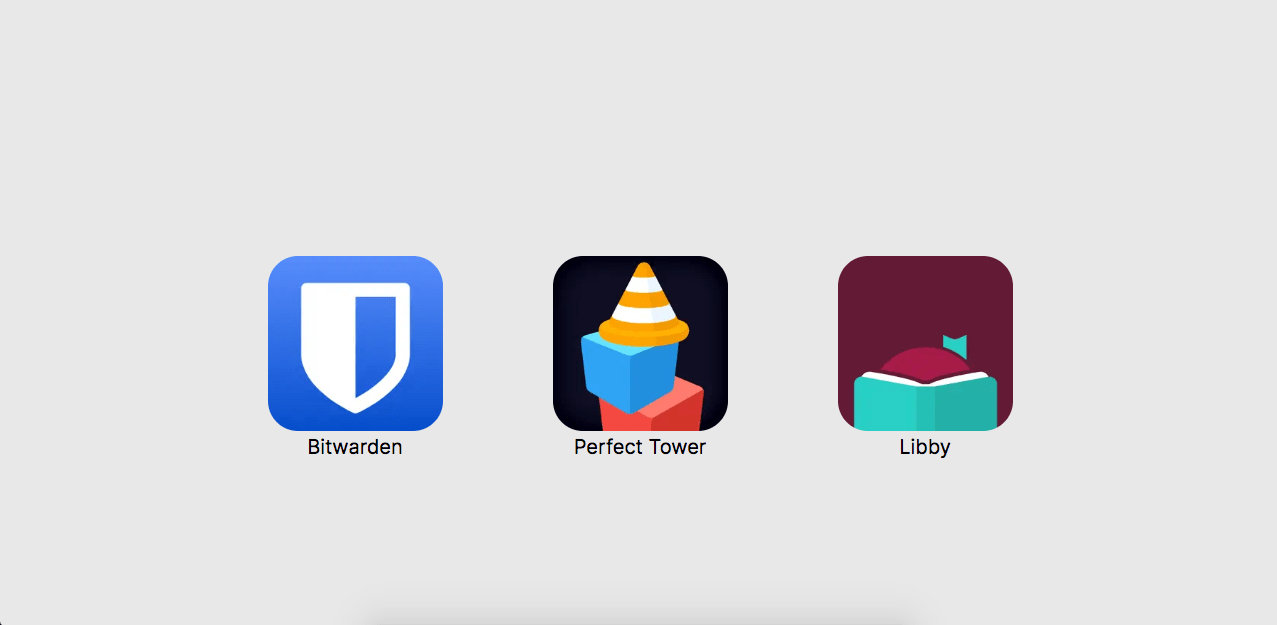 Hello Everyone,
I'd like to begin this post by introducing myself. My name is Wes and I am from the US. I have aquired AppHunt and I'm psyched to get started! This last week has been a wild ride getting everything transferred and setup. If I missed something please reach out and let me know.
Onto this weeks apps!
1. Bitwarden
My first pick for this week has to be Bitwarden. It's a free and open source password manager that's fully encrypted. I have been using it everyday for a few years now and I don't plan to stop anytime soon.
It has made the transfer of this website and newsletter a breeze. I can easily setup new accounts with strong unique passwords and the app remembers them for me. Then I can sync them from my phone to my browser using the Bitwarden extension for Chrome or Firefox. I currently have over 250 logins across personal and work accounts so it really helps to have something else to manage that for me.
It isn't only for storing logins though. You can also store identity cards, credit cards and secure notes. I've actually used it to pay for dinner once when I forgot my wallet at home. I had to embarrassingly ask the waitress to type my credit card numbers in manually using the app.
They take security very seriously which is why I trust them. They get audited every year.
At this point I should probably upgrade to a paid plan just to support the development of this app.
2. Perfect Tower
I have to admit I haven't played this game in a long time but this post has inspired me to dust of the cobwebs on older apps that I've had on my phone. For all the games that have come and gone I have always kept this one around. It's great for a short distraction while taking a bus or waiting in lines or just playing when you're bored.
The objective is to build a tower as tall as you can without it falling over. The higher you can build your tower the more points you earn. It's a lot like Tetris in that you have to figure out how the next shape needs to fit in your current tower.
The shapes start positioned in the sky and when you touch the screen a shadow appears showing you a faint outline of where the shape will fall. You can drag the shape around to get it where you want, then when you let go the shape will fall onto your tower. This is the most satisfying part. When the shape hits the tower it triggers haptic feed back and makes your phone vibrate slightly as the shape bounces around the tower to either finally settle or fall off into the water.
It's oddly satisfying to get a perfect drop and if you get multiple in a row you go on a streak.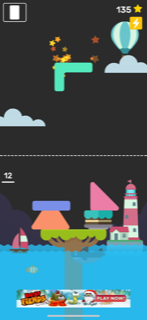 While playing you unlock cool new shapes that you then have to figure out how to use climb to new heights. You also unlock new items that go in the background scene that you can look at while you play. Checkout that sweet lighthouse.
As you get more points you can buy power-ups to help you when you get stuck. You can use the lightning bolt to play a power-up at any time.
Give it a try. My highest score is 275 see if you can beat it!
3. Libby
My goal for this coming new year is to read more books... I'm also pretty sure that was my goal for last year too and I don't think it worked out so well.
I like to buy books with a plan to read them. Then once I pick them up I get about halfway through them only to put them down and never pick them up again. I've become a hoarder of sorts when it comes to unread books and that stops now.
Libby is a free app that lets you rent books through your local library all you need is a library card. I know what you're probably thinking how is having access to a library going to help you finish the books you start reading? I'm getting to that part.
Not only can you rent ebooks you can also rent audiobooks. I think this will be a game changer for me. Personally, I listen to a lot of podcasts and I think an audiobook can be similar enough to a podcast that I can actually power through and finish it.
I found the app super easy to setup. The first step was to add my library card. That's all you need once your library card is connected you can start putting books on hold.
My goal is to read 10 books this year. I just put the first 4 on hold. The nice thing about the app is it lets you see if something is checked out and how many people are waiting for it. Then based on those numbers it gives you an estimate of how long it will take before you can check it out.
Example: I've put Snowcrash by Neal Stephenson on hold - Libby estimates that it will take about 2 weeks before I can listen to it. If I click on the hold it says:
You are 2nd in line (started: 3rd). 2 copies in use. 3 people waiting in total. 2 people waiting per copy.
The longest estimate is 14 weeks to read "How to Win Friends and Influence People" by Dale Carnegie. It makes sense with how popular that book is. This might vary by library and also the fact I'm only checking out audio books. There doesn't seem to be many copies of audiobooks at my local library. Your experience might differ if you read ebooks.
Libby currently says there are 63k books, 16k audiobooks, 79k available now and 49k for kindle from my local library.
If you give it a try let me know your experience. How many books are you planing on reading this year?
Thoughts?
This was my first post. Please reach out and let me know how I did.
If you end up downloading any of the apps listed and try them out I'd love to hear about it.
Thanks, until next time!