#035 - List, Paper, Eraser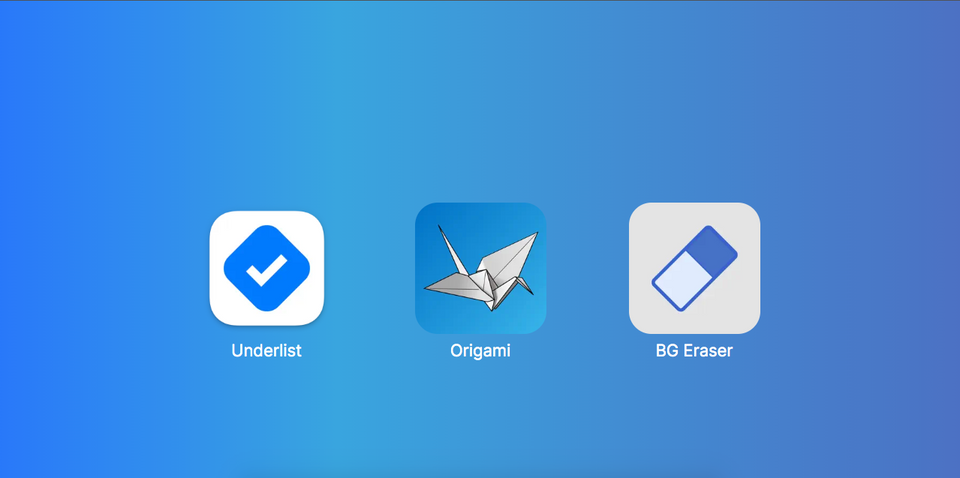 1. Underlist
Another list creator app is up for review this week.
Underlist, is a free app for managing lists of items
Normally I use the native notes app so I can share simple lists of tasks with my wife. It's been great for things like groceries or remembering what to take with us on trips. I like that we can share a list between us and both work on different parts of it. Until I recently moved to iOS 16 and collaboration stopped working. So I've been looking for something new.
I like Underlist for a few reasons. It's a free app. It has dark mode support out of the box (I use dark mode on everything). You can change your app icon if you want. Mine is black and yellow to match the dark mode theme. But the best feature I've found so far is the ability to set recurring tasks.
I've been looking for a way to create a recurring list of items that I can check off everyday of the week at a certain time. I tried to do this with shortcuts and the notes app but it was complicated and I had to approve the shortcut for it to run everyday. I just want a notification telling me hey did you remember to do these things at this time. I can now use Underlist for that.
The only thing I wish I could do is to make an entire list of items recurring. To get around this I instead made one item in that list repeat every weekday at 9 am. Now I get a notification about that one item and it takes me to the list where I can check off the other tasks too.
I should also mention they have a welcome list that is created by default that shows you how to use different features of the app. It's very nice to have access to a tutorial when you need it.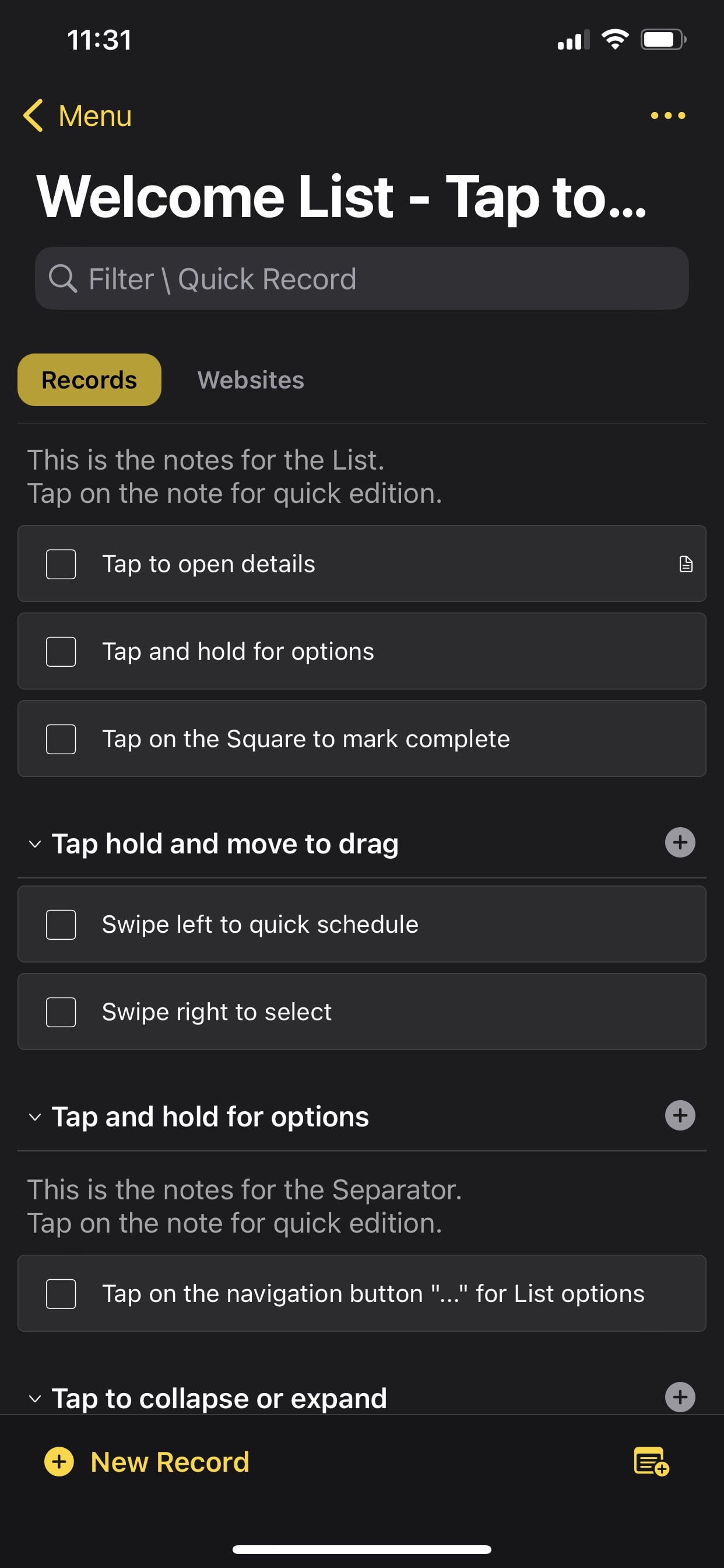 I haven't tried sharing lists with Underlist yet.
That's next on my... list excuse the pun.
Underlist is a free app with no Ads. You can tip the developer if you like their work using in app purchases.
2. Origami - Fold & Learn
Origami - the art of folding paper into decorative shapes.
I picked this app for a couple of reasons. It was easy to use. There are no in app purchases. And the design was simple and clean.
I had never tried my hand at Origami until I found this app. The app currently has 42 different folds to chose from.
I picked the Christmas Tree fold (tis the season).
I found a sheet of computer paper that my son hadn't drawn on yet and got started. I noticed that the first step in this design called for folding a square piece of paper in half along two of the corners. Since I was using normal 8" x 11" printer paper I ended up taking the top right corner of the piece of paper and folding it down so that the top and left sides of the paper were flush - making a diagonal fold and then cutting the excess off of the bottom to make the square.
Once that was done I was ready to follow the guide. The Christmas Tree fold has 9 steps in total. Each step has a kinda clip art style image that shows you where the fold is and a brief explanation of how to do it.
If you get stuck there is a tab at the bottom called Guides that explains what the different arrows mean.
I got stuck on the seventh step of the Christmas Tree fold.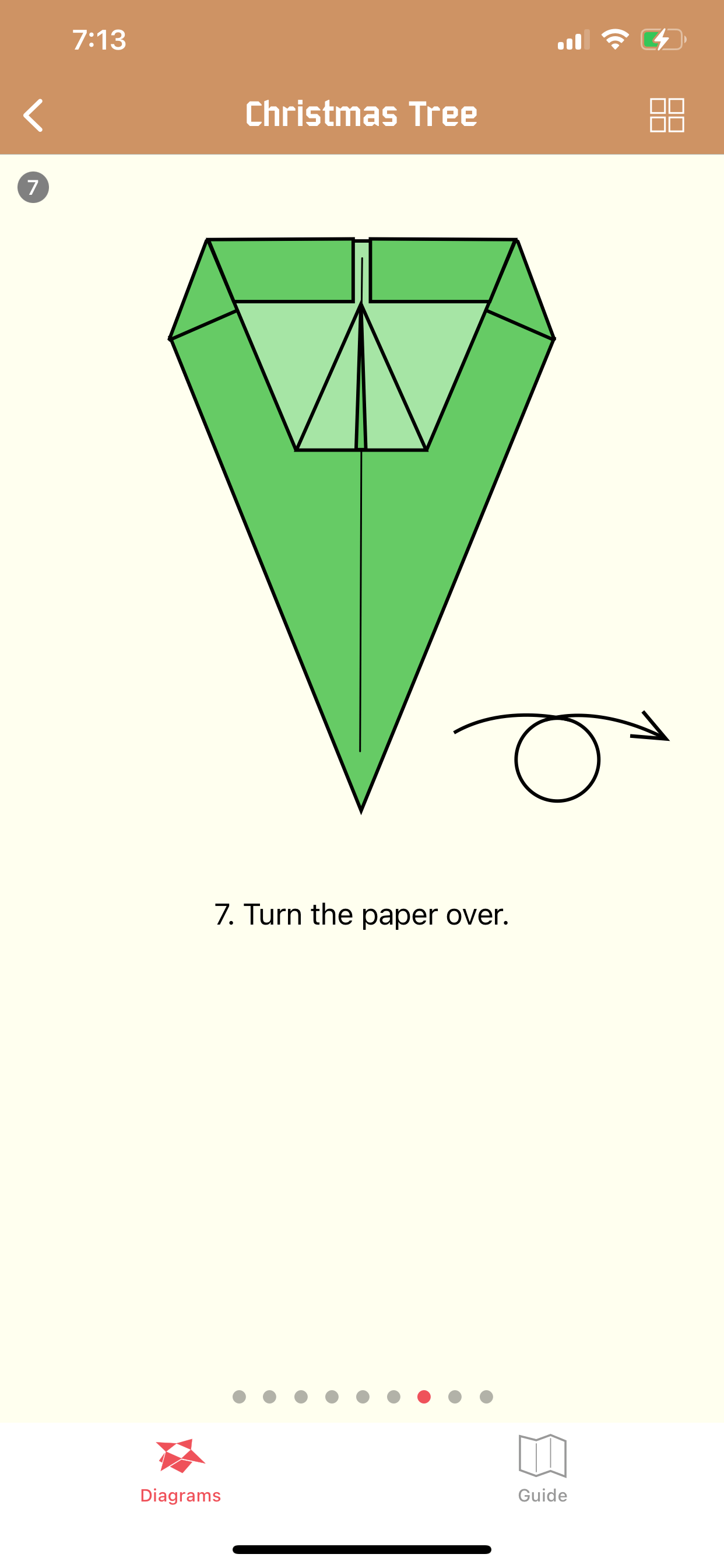 I had a hard time figuring out if I was supposed to fold the entire sheet up or not. I ended up making a mistake and folding the whole sheet. I realized later that the app was trying to signal to me that I was supposed to focus on the lighter colored part of the paper and fold that instead of folding the whole thing.
Here is the final product (Notice the huge crease at the bottom of my tree)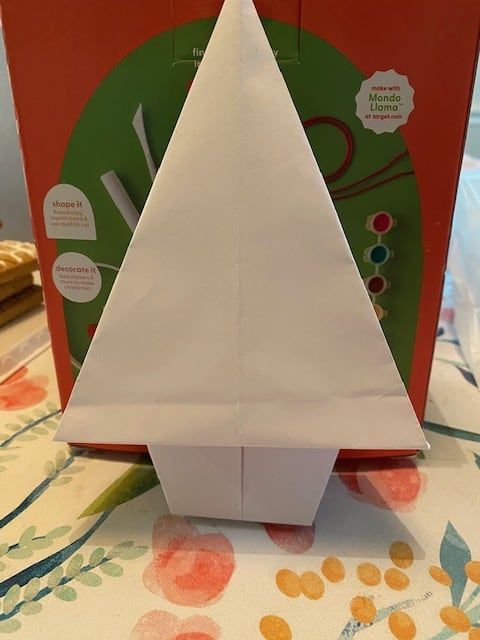 I found Origami to be relaxing. I thought that the app did a great job of guiding me through my first attempt. If I were to try this fold again I think I could really nail it. I'm going to try to see if I can't show my nephews how to make Christmas Trees this year.
If you like the app the developer has other origami apps that you could purchase to support them.
The app was free when I downloaded it earlier in the week, but it is normally $1.99
3. Background Eraser Remove BG
In this review I compared Background Eraser and the native camera app's ability to remove an images background. I picked the image of the Christmas Tree I made in the Origami app above. I picked this image because I knew it would be hard for the software to find the edges due to the busy background.
If you didn't already know iOS 16 has a new ability to press and hold objects in your camera app to cut them out of the background. The camera app triggers haptic feedback when you hold an item in an image and then it will animate a white border around the part that it cuts out of the background and you can copy it or share it. This is what my image came out like using the camera app.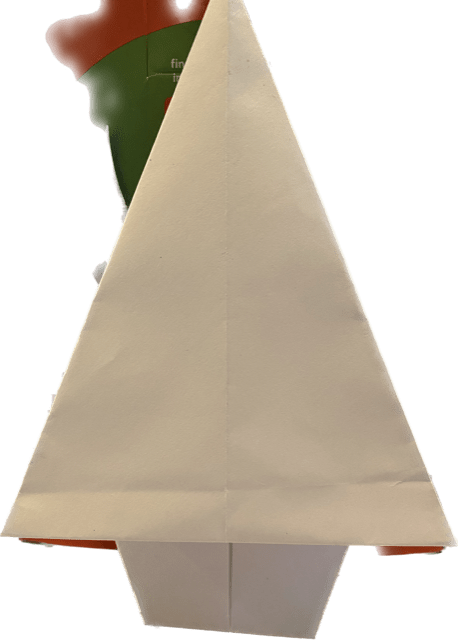 Now I didn't expect this to be perfect. The camera is having a hard time determining the edges of the white piece of paper because of the lighting in my dining room. Lets see how the Background Eraser does.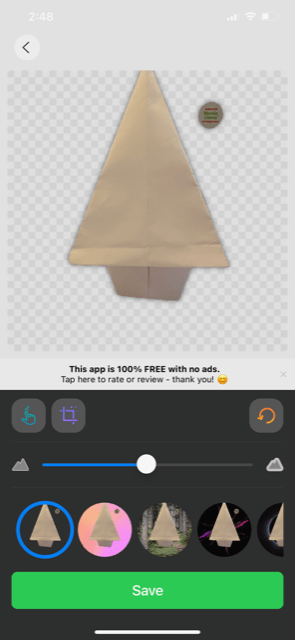 This went surprisingly well. The only issue was a small dot from the box that I used to stand up the Christmas Tree. I was able to drag my finger over that dot to erase it from the image.
Next I chose a background to put my image on and saved it. Can you guess which background I picked?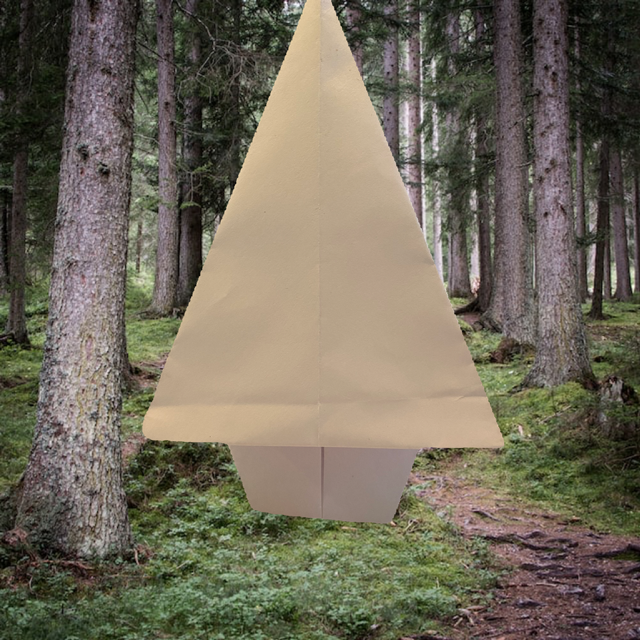 A Christmas Tree belongs in the forest right?
The one thing I noticed while using the app was that it was hard to make very fine edits. I don't think using my finger to try to erase small details from the image is very accurate I would probably need some type of stylus and the ability to zoom if I wanted to get it pixel perfect. However I don't think the camera app lets you edit your cut-out at all so that's a plus.
Background eraser was free to download with no Ads and it held up when the camera app had difficulty.
Feedback
As always I'd love to hear from you. Give me a shout if you try any of the apps out and you like them. If you have any apps I haven't reviewed yet send them my way.
Let me know how I'm doing [email protected]