#039 - Goals
I'm trying a new format this week. Instead of a shallow dive on three separate apps I'd like to write a more in-depth article on one new app that I've found.
My goal (no pun intended) is to still keep the article between 500 and 1,000 words.
A benefit would be that when developers of apps reach out to me specifically I can write a full article just for that app. A downside is that you might not hear of as many new apps in a month. I might not do this every week and may go back to the three apps a week format on weeks that I have more content to share.
I'm also playing around with the idea of reviewing similar apps that I have previously featured that are similar in type. Think todo lists, password managers etc.
Let me know what you think.
1. Gola - Goal Tracking
Gola is a beautifully designed app for goal tracking.
I've already told you guys that I'm trying to read more books this year.
I downloaded Gola and figured I could use it to track the number of books that I've finished. I'm not actually reading the books I'm listening to them using Libby which I talked about in post #033 but it's kinda the same thing right?
The downside with Libby is that I haven't figured out how to see a list of all the books I've read or listened to. So I created a goal in Gola and now I can track how many books I've completed.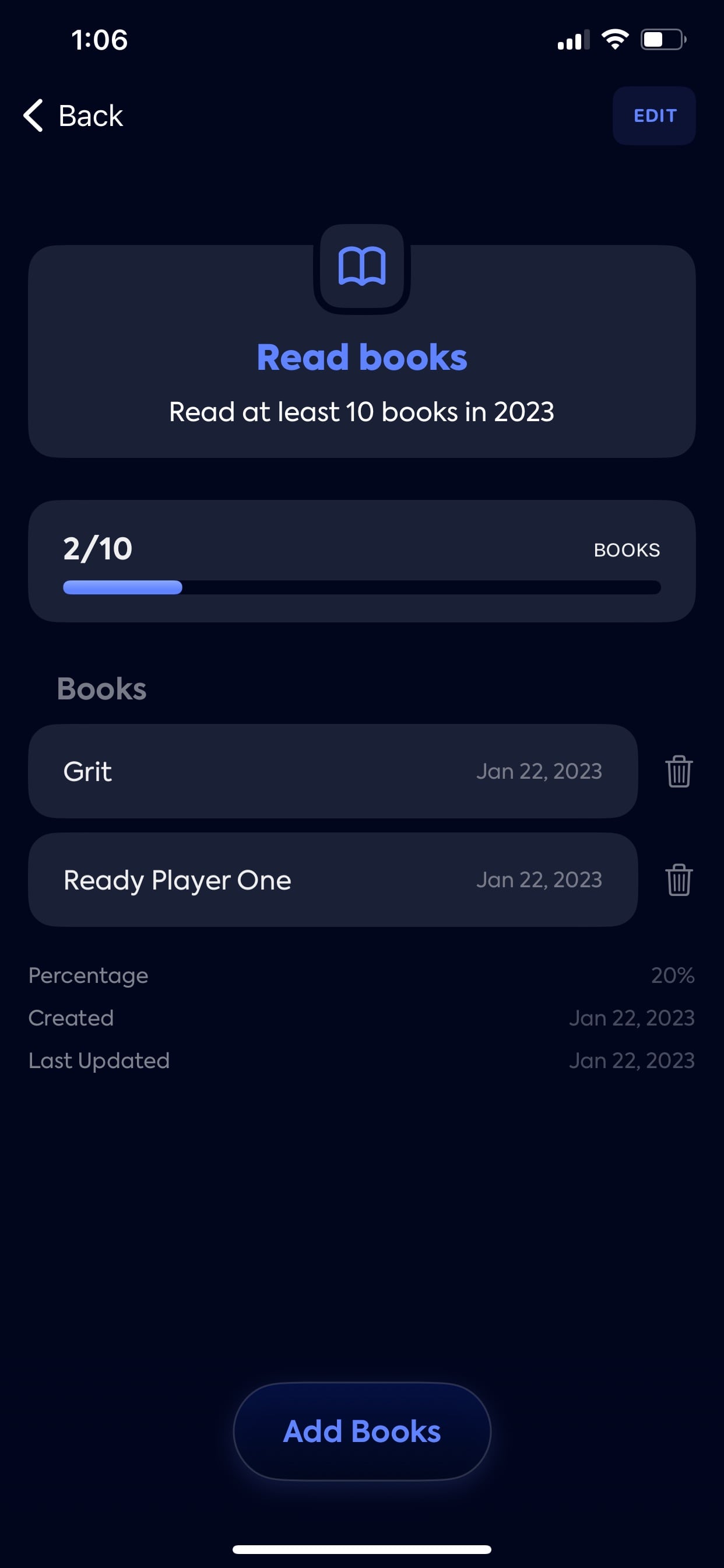 Gola allows you to track 5 different types of goals.
The default is a Single Goal this is a one-item goal that is either in progress or completed. I recommend creating one of these right away and checking it off. It has a great animation and haptic feedback effect.
The next type of goal is a Progress Goal this goal type allows you to set a number goal and add or decrease the number as time progresses. This would be great if you wanted to do a task three times a day or something where you didn't need to write down what it was you were doing.
There are also Sub Goals these are for when you have to accomplish a bunch of smaller tasks to fulfill an overarching goal. Think of this like a nested checklist.
Then there are Open Progress Goals which are yearly goals with no number value associated with it. If I just wanted to read as many books as possible in 2023 this would be what I would pick.
Finally there is a Value based goal. This is what I ended up switching to instead of using a Progress Goal. Now instead of just keeping track of the count of how many books I've read I can also include the title and the date that I finished them. This is perfect for my use case.
My favorite part so far is the design. I like the colors and the controls. Using the app feels great. I'm rocking the dark blue theme but there are 4 themes in total to chose from along with 4 different app icons. The dark green theme makes me feel like I'm playing a fallout game.
If you still haven't done it go ahead and create a Single Goal and then set it to complete. I'll wait.
You can also setup reminders that will send you notifications for you goals. You can enabled these Weekly, Monthly or Quarterly. It doesn't look like you can set individual reminders for each goal yet. Maybe that's an advanced feature.
There is also a section where you can set a passcode or enable Face ID to prevent anyone else from sabotaging your progress. I tried setting a passcode and closed out of the app but did not see a screen to enter a passcode when I opened it back up. That might also be an advanced feature.
Here are a few small criticisms I have.
In the settings screen it shows me how many days of the year I have left. I kinda wish I could have that part displayed directly above my list of goals. So I could be reminded every time I track my progress.
I also would really like to know what I would get with the advanced feature set. You can scroll down when you click "Get All Features" and the app tells you that you can add unlimited goals, unlock all goal types and get full control over your goals. I find those features to be a bit vague. How many goals am I allowed to make. Also, I'm unsure what "Full Control" over your goals really means.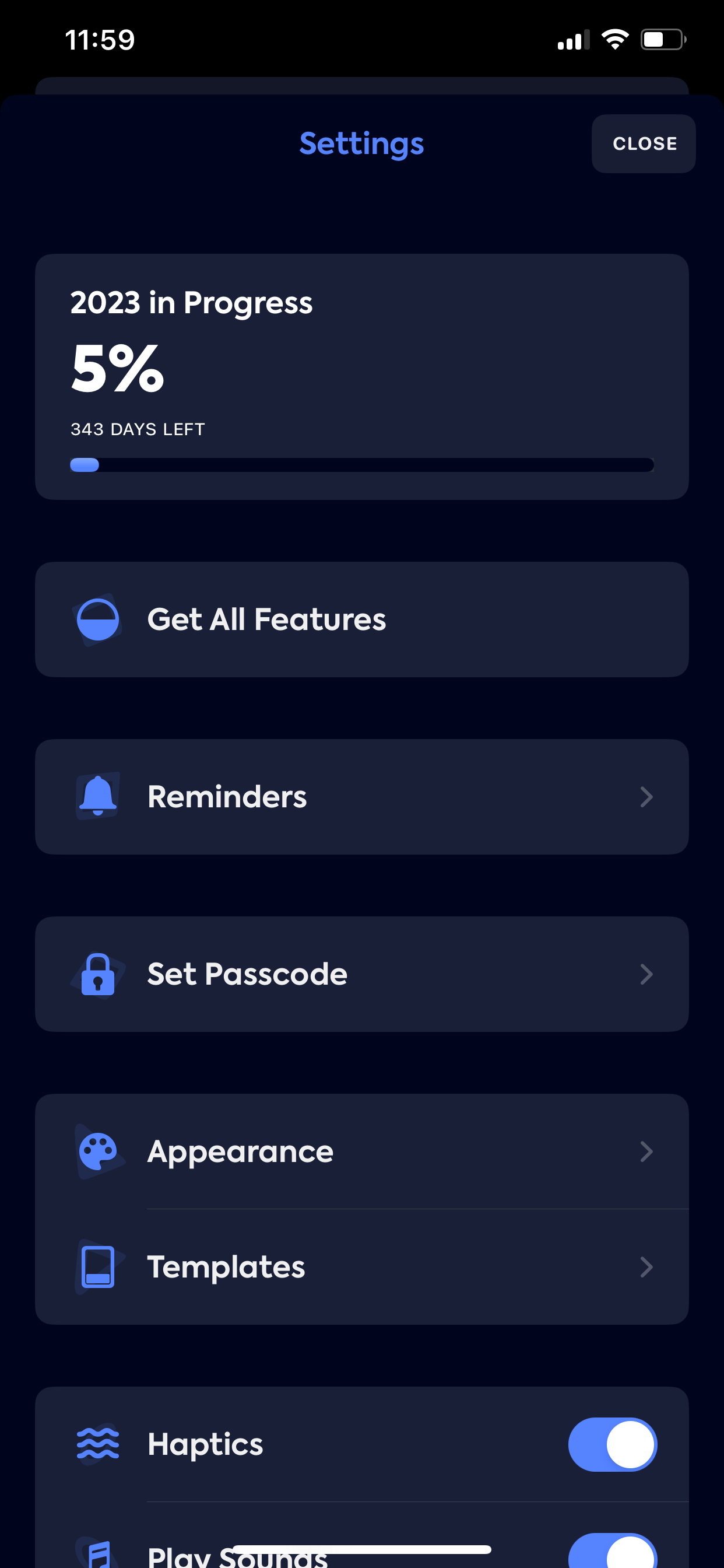 Gola is free to download. However, if you want all the bells and whistles you can pay either $2.99 a year or buy a lifetime subscription for $6.99.
Feedback
As always I'd love to hear from you. Give me a shout if you try any of the apps out and you like them. If you have any apps I haven't reviewed yet send them my way.
Let me know how I'm doing [email protected]